St John the Baptist Church at Penshurst is an Anglican parish church in the Diocese of Rochester. Presided over by the Reverand Tom Holme, (who also covers the two other churches in Penshurst), St John's plays an active role in the community through regular church services and events.
A word from the Rector, Rev. Tom Holme
The historic church of St. John the Baptist will soon have witnessed at least 900 years of Christian life in Penshurst. I do hope that that the information on this website will help encourage you to visit us in person, whether to join in a service, attend one of the events that we host, or just to appreciate looking around a fine building, full of history, and reflect quietly. You will be most warmly welcomed.
About Penshurst Church
A church has stood here since 1115, at the centre of a cluster of buildings, including the manor house, guild house and rectory, all still surviving.  Listed grade 1, the church helps tell a country's story through the eyes of a single village – through its courtiers, soldiers, statesmen, politicians or priests whose lives appear on memorials or through its changing architecture, brasses, carvings, effigies and windows.
St John the Baptist Church, Penshurst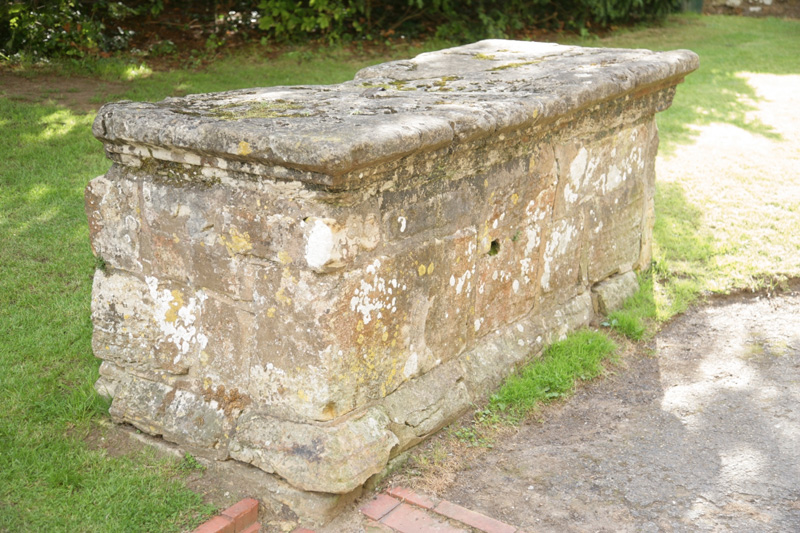 The Dole Table – one of only 3 left in the UK
Note that in the churchyard, in front of the porch, is a large stone table known as a dole table, which was used once a year to distribute money to the needy of the village. Also note, for more notorious reasons, the grave of Richard Sax under a yew tree near the bottom of some steps as you enter the churchyard under the arch. Mr Sax was a farmer who was brutally murdered in 1813 following an argument with a farm labourer who worked on the estate of Baden-Powell (the founder of the world scout movement).
Detailed information on the interior of the church is to be found in a booklet entitled 'Penshurst Church and Village', available for purchase when visiting the church.
Gallery
We are fortunate to have some excellent photographers living within the parish and thank Martin Barraud for capturing Penshurst Church at its best.